Well…we braved the thunderstorms in and around Dallas this morning, and headed down to Lil' Ninjas.  For those of you who are not familiar with it, it is an indoor park with obstacle courses including things such as the warp wall, foam pits, rope ladders, swinging rings, and much more.  As a mom of two very active kids, a place like Lil' Ninjas is a life-saver on such a rainy Spring Break day.  However, I was not the only person with this great idea.  I was hoping that the weather would keep people at home, but I think everyone was ready to get out of their houses today.  So…along with many other families, we set off to spend the morning at Lil' Ninjas.
Of course, I packed a camera hoping to get some good shots.  But today, I packed my Olympus OMD E-M5II – – this is a camera I purchased a few months ago because I convinced my husband that I needed a camera that I could drop in my purse to carry with me on outings like this one (more to come on this camera in a later article).  I told him it would be my "purse" camera that I could take with me everywhere.  I love my Canon 5D Mark III  (best camera ever), but sometimes I just want something smaller.  Especially when I'm carrying around drinks, towels, and other things the kids might need…
I love my new Olympus OMD E-M5II, but there is a definite learning curve.  I am so used to (and comfortable with) my Canon, that it is taking me some time to figure out all the settings for my new Olympus.  Check out the pictures below.  The setting was inside, with lights similar to those in a gym, so not the best conditions.  And…my kids were moving pretty quickly across bars, rings, and cargo nets.  I still managed to get some nice, clear shots though (I think).
The lens I was using today, is the Olympus M.ZUIKO DIGITAL ED 12-40mm F2.8 PRO Interchangeable Lens.  It is very small compared to my Canon lens, so it makes it really easy to lug this camera around.  And…the camera with this lens on it is still small enough to fit in my purse!  If you are interested in a large zoom lens, I also have the Olympus M.ZUIKO 40-150mm f/2.8 Interchangeable PRO Lens.  This lens is quite a bit larger, and when it is on my camera, it is certainly not a purse/pocket camera.  However, the lens is surprisingly light-weight.  I plan to try this lens out at a soccer or baseball game sometime when I'm feeling brave and ready to step out of my Canon comfort zone!!
I'm always happy when they agree to pose for a picture.  That doesn't happen very often, but when it does, I'm sure to have my camera at the ready!!  The pictures like the ones below are easy.  I set the camera to Aperture Priority and shoot away.  When there's no movement, focusing is easy!  But luckily, I'm up to the challenge, and I kind of like trying to figure this stuff out.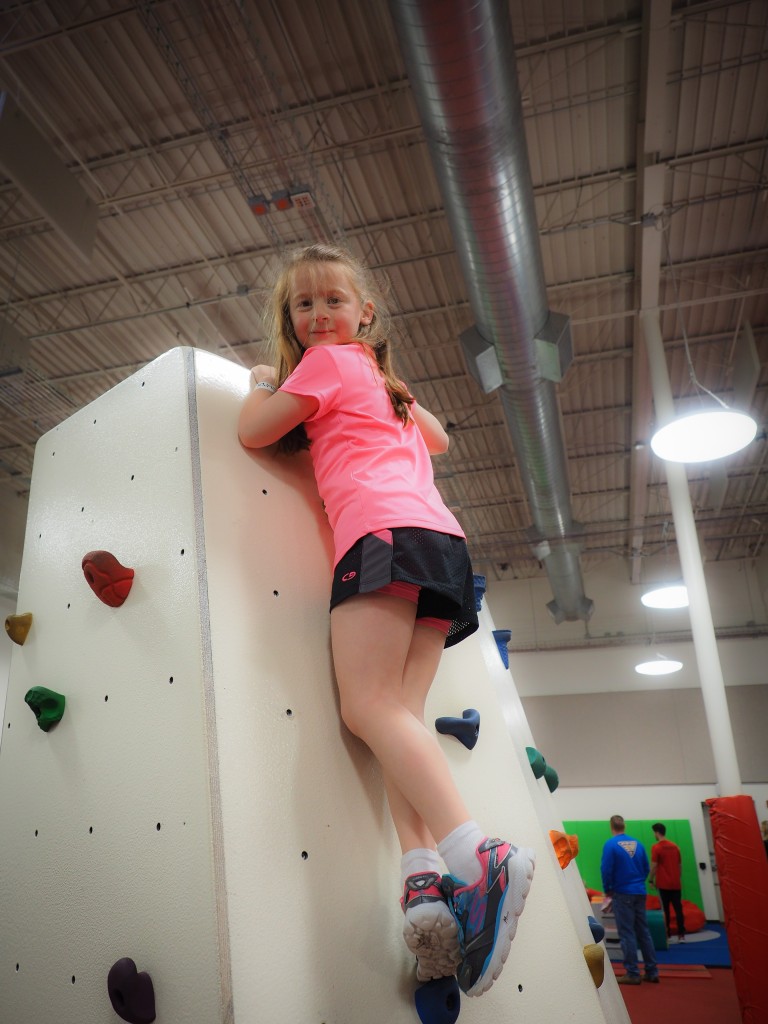 So I got a couple of "posing for Mom's camera" shots, and then they were off again!  So…I switched my camera back to Shutter Speed Priority mode and chased them around for the second hour of our Lil Ninja warrior time!  It would be interesting to compare similar shots taken with my Canon 5D-Mark III.  I think they would be very similar, but the difference is that I'm comfortable with my Canon – I feel like "she" is an extension of my arm sometimes.  The Olympus and I have a different relationship – still trying to get to know each other.  I'm pleased with the shots I got today though.  I can't imagine what kinds of cool action shots I could get if I actually knew how to work my purse/pocket camera!!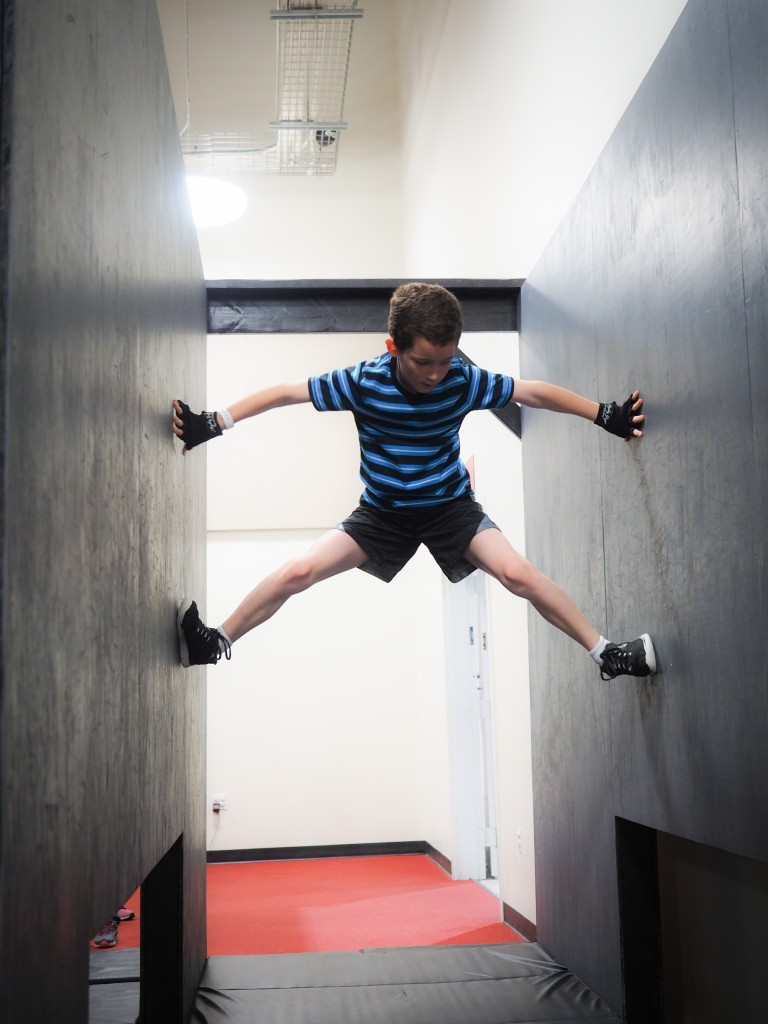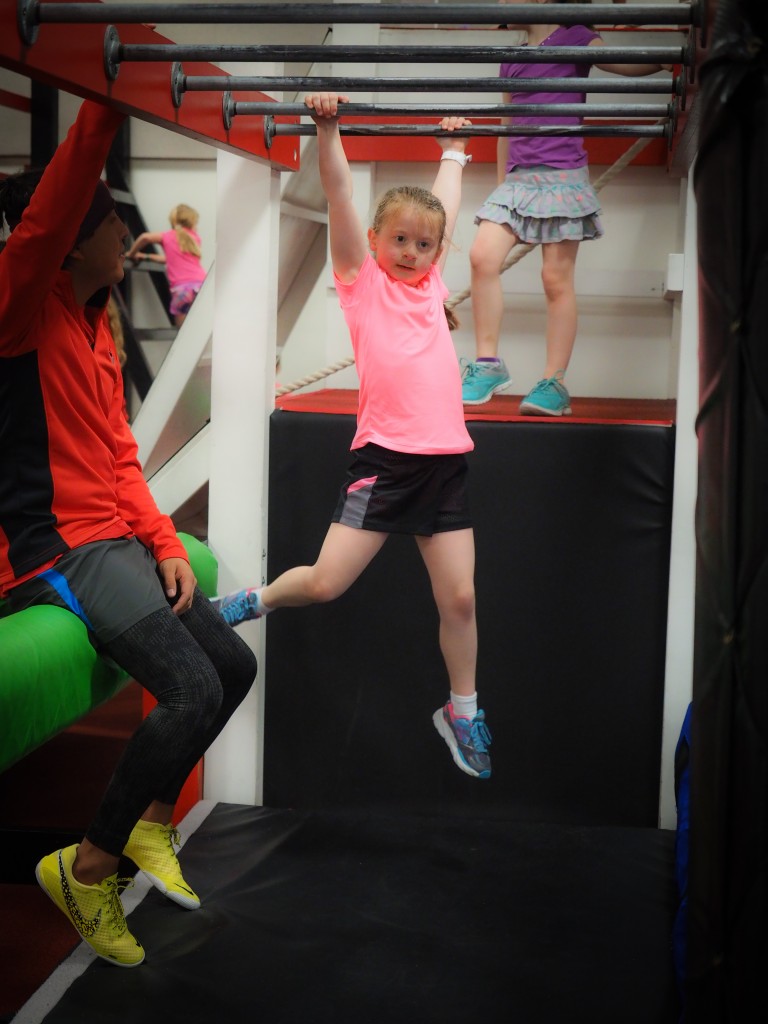 So all in all, it was a successful day.   The kids got to get their crazies out at Lil' Ninjas, and I got to play with my purse camera.  Don't let the rain stop you – just pack up your camera and head to the nearest indoor play space and see what kind of shots you can get!  Until next time…