As I gathered up my things for the day, I had trouble deciding if I should take my book or my Kindle with me on my errands. I almost always end up waiting on someone or something, usually in the multiple carpool lines I find myself sitting in on a daily basis, so I try to have good reading material at all times. Today I struggled… I'm in the middle of two "pieces of literature," or "poolside trash" as I sometimes call my books – one is always a book that I've bought or checked out from the library, and a different book is always on my Kindle!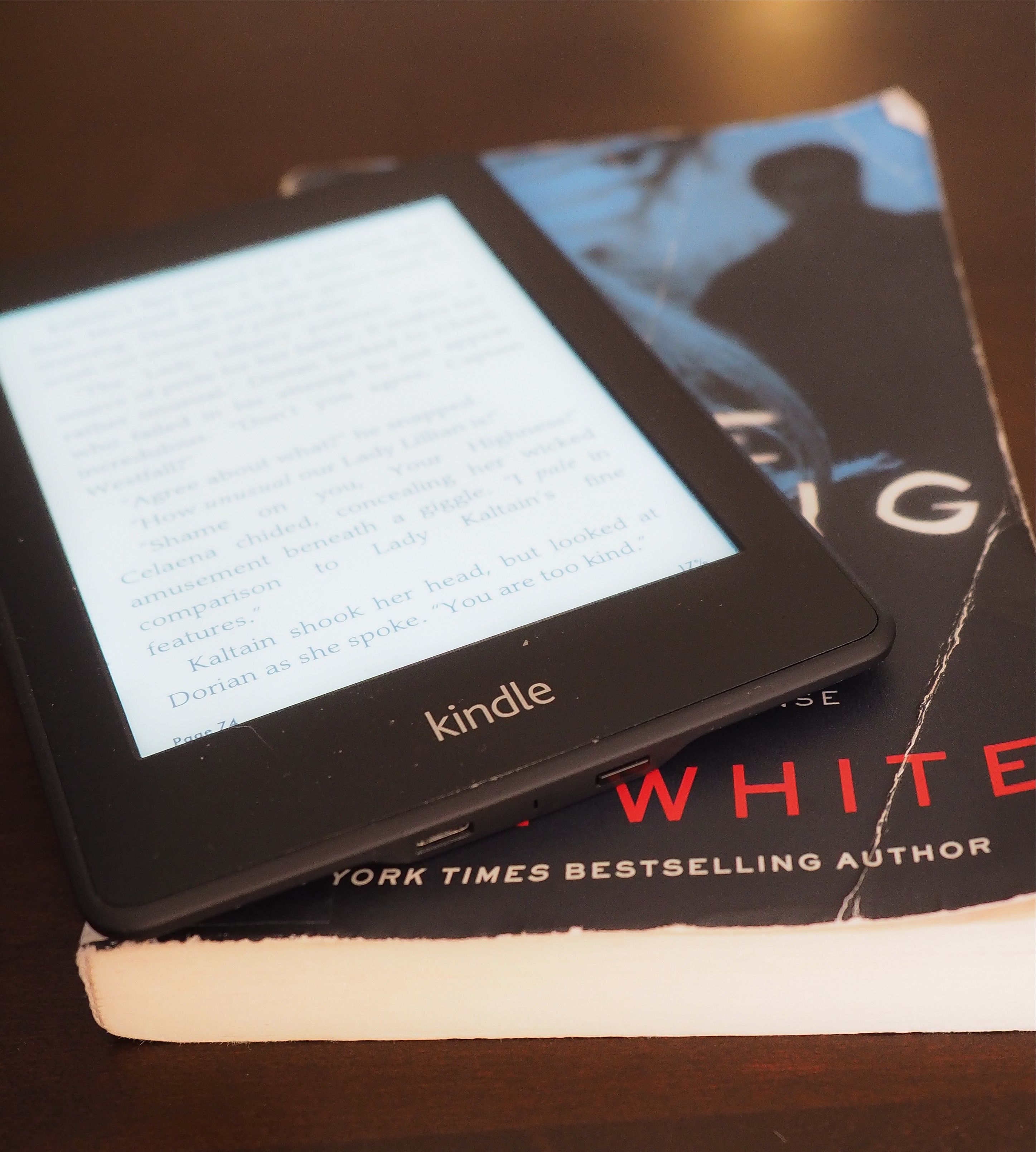 There seems to be two schools of thought – the people who LOVE books and vow to never use an e-reader of any sort, and the people who LOVE their e-reader and vow to never have a book in their hand again. Then there are people like me – caught in the middle. I LOVE my Kindle, but I also LOVE books. Nothing compares to the feel and smell of a brand new book.
Sometimes, that is what I need. But…on the flip-side, nothing compares to having a very small electronic device that holds hundreds of books at one time either! A device that is so small, that you can slip it in your pocket or your purse to take with you. So that is why I am stuck. Sometimes, I need the feel and smell of a new book, and I want to roam the aisles of a bookstore or a library. In a pinch, the book section at Target will do. I enjoy sitting down and reading the backs of books, and then pick some to buy and bring home with me. And I'm the first one to admit – – I HAVE A PROBLEM. The pace at which I read, does not match the pace at which I purchase books.
I recently had to buy a little shelf (another little shelf) to hold the books in my "to read" pile! Every time I come home with another stack of books, I'm sure my husband wants to scream! He's an Audible guy – he doesn't buy books anymore, because he only listens to them. I enjoy an audible book now and then, but reading a book is something entirely different…
I also like to browse the aisles at my public library while my kids are putting books back on the shelves in the wrong place when trying to choose books. I can bring several home from the library, a book bag full of all kinds of books – FOR FREE! Well, except for the donation I make each year. Still not a bad deal.
There are many types of e-readers on the market, but I have always been a fan of the Kindle. Mostly because it it linked to my Amazon Prime account – it's so easy to buy and sync books to all my devices. Kindle Paperwhite is the one I used to carry, and I loved it, but there are many other choices as well.
My current Kindle is the Kindle Oasis. It was definitely time for an upgrade, and I chose to get the Kindle Oasis because you can have it near the pool, and it won't matter if it gets splashed! And now that my kids are old enough to play in the pool without me, I have been known to sit in a lounger beside the pool and read my Kindle while they splash around.
There are a couple of reasons I love the Kindle. The page of a Kindle looks just like a book (only sharper). It doesn't matter if it's in the sunlight of in a dark room. The Kindle is backlit, so it adjusts to the lighting wherever you are.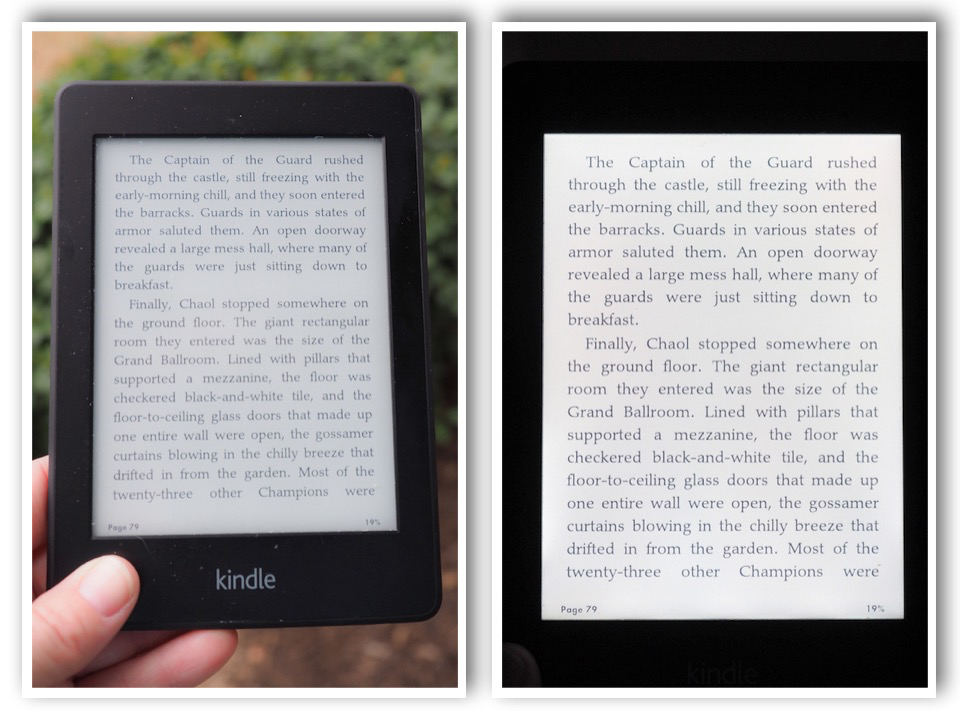 The picture on the left shows my Kindle Paperwhite outside at my house. Looks just like a book, right? No glare to worry about like with some e-readers and devices. The picture on the right shows my Kindle Paperwhite in a dark room. See how the page is lit up? Awesome, right?
I may have found the answer to be happy in both worlds….I have my Kindle Paperwhite, but it sits in a leather cover, so it looks and feels like a real book. It's a simple cover called Limited Edition Premium Leather Cover for Kindle Paperwhite, and for me, that is the best of both worlds!!
So…whatever you choose, book or Kindle (or other e-reader), find a nice comfy spot, a great story, and for me a cold diet Coke! Enjoy your reading time!