Yesterday, we were playing outside on our many riding toys enjoying the weather. The crazy, Texas, unpredictable weather! As I sat on the curb snapping pictures of my kids and their friends, I thought about the conversation I had with my younger sister earlier in the day.
We were talking about the crazy weather, but her story was quite different. She lives in Chicago, and she was telling me about snowshoeing with her dog that morning. "It isn't that bad today – – it's 7 degrees," she said!! WHAT?? For the last few weeks, the temps had been in the negative numbers in Chicago, so 7 degrees did not seem so bad to her.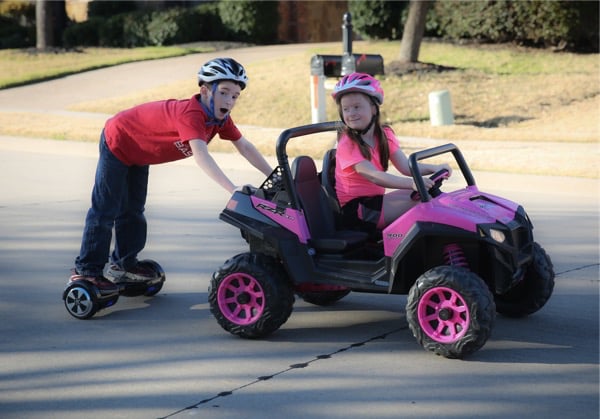 Yes…that's my daughter wearing shorts and a short sleeve t-shirt. You can't see her feet, but I'm sure she's barefoot!
So, while my sister was snowshoeing in Chicago, we were out enjoying some of our favorite riding toys! Zach's favorite is his new Swagway X1 Smartboard! A totally cool ride. It took him a few months to save up enough money to buy one! Because I knew I would want to take it for a spin, I chipped in a little bit to help him out! Morgan was cruising the neighborhood in her Peg Perego Polaris RZR 900. A little gift that Santa left for her on Christmas morning! Talk about a cool ride. Unfortunately, I don't fit in that one!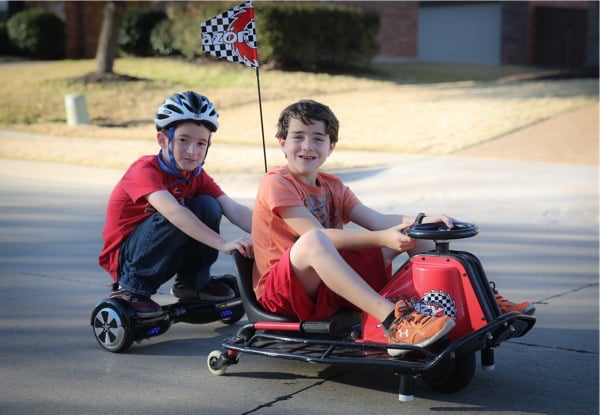 When our friend, Kaden stopped by, he said he wanted an electric toy too, so we got out the Razor Crazy Cart! It was quite a day. Beautiful weather and a perfect day for all of our new riding toys. And…it gave me a chance to take some fun pictures outside!
Needless to say, my sister did not like me texting pictures of my weather app to her all day.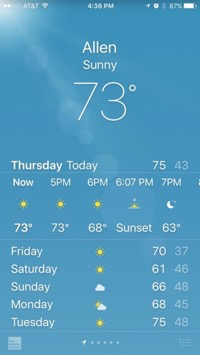 So…get outside while you can. Probably in the next few weeks, I will be posting pictures of my kids sledding down the driveway!