Shooting through a chain-link fence at a tennis match is much harder than I thought it would be.  Zach had a GREAT time at this tennis team tournament (even though I had trouble getting good pictures). His Twin Creeks team came in 3rd out of many other teams from the area.  Zach won 10 matches and lost 3 – – he was a superstar!!!
Tennis was a new sport for me to photograph, so much like when I started taking basketball pictures for the first time, there was a learning curve as to how to get the best shots.  There was an extra learning curve, because I was having to shoot through a chain-link fence!  With a sport where the balls go back and forth very quickly, a chain link fence can prove to be very difficult, and when the fence has wind screens up, just forget about getting a picture.
The main problem with the chain link fence was that my lens was larger than the holes in the fence.  Silly me…I thought I could just poke my lens through the links in the fence and pan my camera back and forth.  I quickly discovered that was not going to work.  I tried to follow Zach with my lens, but my focus kept getting distracted by the chains on the fence.  I still managed to get some good shots (I think), but many of them were fuzzy because of the focusing system getting distracted by the chain-links!
At this tournament , I was shooting with my Canon EF 70-200mm f/2.8L IS II USM Telephoto Zoom Lens, so I was able to get better pictures when Zach was a few courts away from me.  Of course, then there is the additional challenge of other players on nearby courts stepping in front of my shot.
I feel like this dilemma makes a great case for purchasing a new Canon M5 – this is a micro 4/3 camera.  It is so much smaller than my Canon 5D Mark III, that I do think these lenses would just fit right through the chain link fence!  No focusing problems at all.  Now if I could just convince my husband that I do, in fact need the Canon EOS M5 EF-M 15-45mm f/3.5-6.3 IS.  Don't you all agree?
And not only would it solve my chain-link fence problems, but they also say that this camera EOS M5 camera has the fastest autofocus (AF) speed of the EOS M-Series and a built-in Electronic Viewfinder.  Sounds like something I really, really need (want)!!
After about 20 minutes of attempting shots through the fence with my 5D Mark III and my giant 70-200 zoom lens, the Tennis Director noticed my lens and asked me if I was a professional photographer.  I laughed, and told him that I was just a very over-zealous mom.  He then told me that in exchange for taking pictures for his newsletter, he would give me a "press pass" of sorts.  This meant that I would be allowed to be on the courts during the tournament to take pictures.  So…fence problem solved!  At least for this tournament…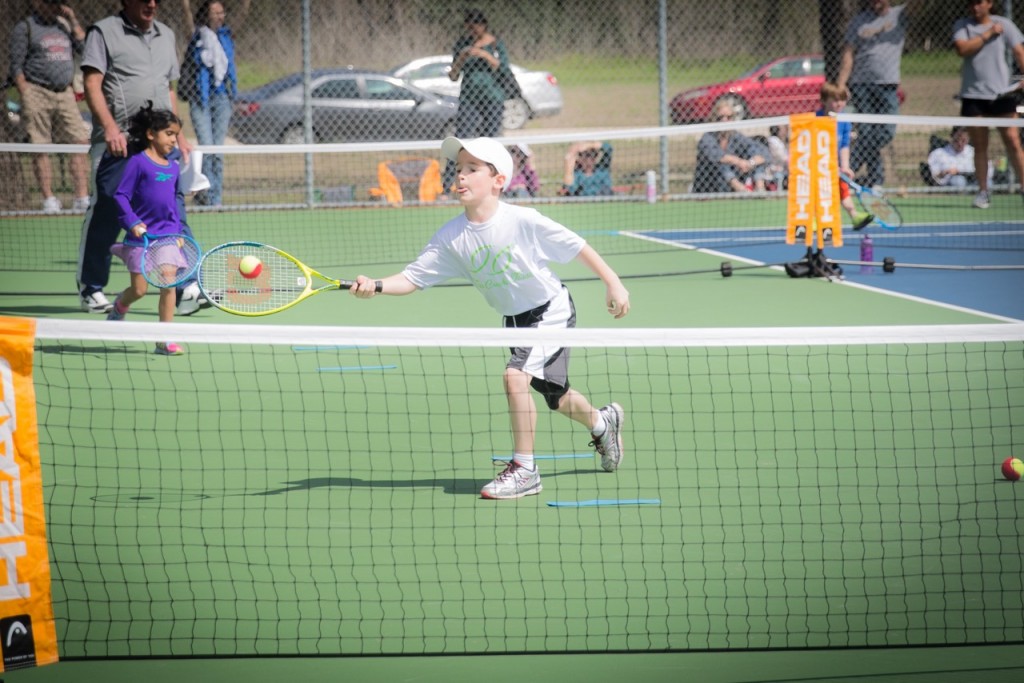 Unfortunately, the press pass was only good for that one tournament.  I searched and searched for the director at the next tournament, but he was nowhere to be found!  So…back to figuring out how to shoot good pictures through a chain link fence.  Don't let things like a fence stand in your way…just grab your camera and do what you need to do to get a good shot!  Good luck!  Until next time…
Update:  Since posting this article, I found a great article from DPS called How to Shoot Through a Chain-Link Fence.  Sure wish I had seen this before I went to take pictures at Zach's tennis tournament.  But…I've read through it, and now I'm ready for the next time I'm having to shoot through those annoying chain-link fences.
Not sure I'm ready to shoot in Manual Mode, but I guess it's worth a try, because I already implement most of the other suggestions.  When shooting through a fence, I am always very close to the fence.
In fact, I press my lens against it so hopefully it won't focus on the fence instead of what I'm shooting.  And if there is a gap or a bent chain link, I always try to sit in that spot if I can (but sometimes those gaps are too far off to the side).
I also always use a large Aperture (small number) so the depth of focus is narrow.  That helps to blur out the fence if any gets captured in the shot.  I never did think about incorporating the fence into my picture.
Not sure that would work when taking a tennis shot.  Seems like that might be better for a still subject?  Who knows…  Anyway, these are just a few things to remember.  I'll let you know how it goes when I attempt shooting in Manual Mode!!  Wish me luck…