Another school year has come to a close, and not in the traditional way. Usually, these last two weeks of school are filled with class parties, photo booths, fun lunches, board game day, electronics day, and much much more! Well…not this year.
Due to the COVID-19 pandemic, this school year has been anything but ordinary. We've been learning at home now for almost 2 months, and my kids have not seen their teachers or friends in that same amount of time, except for the occasional Zoom call with their classmates and teachers.
So very strange, but our teachers have done such an amazing job keeping our kids engaged and learning from home in this new reality. And…I have learned, or should I say relearned so many things over these last two months. The most difficult subject for me is and always has been math. I've had to really brush up on a lot of my "skills" lately to help my daughter with some of her assignments.
Converting from millimeters to centimeters is not for the weak! Fortunately, I was a 4th grade teacher for 15 years before I had my kiddos, so much to my surprise, many of my teaching tricks came back to me as I was struggling through some of this curriculum!
Who knew that the Schoolhouse Rocks Videos that I played for my 4th grade classes, as well as my kids when they were little would come in handy? I amazed myself and my kids when I could sing every single word to many of those cartoons! And we mustn't forget the helpful sentence King Henry Died Monday Drinking Chocolate Milk!
If you don't know what that is all about, and you need to convert measurements in the Metric System as we did, you should definitely figure that out. Of course, you all probably know about Gallon Man! I was a bit embarrassed when I realized that when my daughter needed help converting between cups, pints, quarts and gallons, the only way I could help her was to draw out a Gallon Man!
Our at home learning started off in the dining room. I set up a nice little work space for my daughter, and my teenager insisted that he could work much better in his room. And I'm sure he actually meant he could sneak in some game time during "school" without me knowing.
So each morning for the first week, we'd meet in the dining room and discuss what assignments everyone needed to complete that day. Perfect, right? Wrong… Because while we were conducting our morning meeting about school, my husband was also conducting his morning conference calls right across the hall.
If you have a spouse working from home who is on conference calls all day long like I do, I know you can feel our pain! We were so up to date on all that was happening in his office, but we were having a terrible time focusing on classwork. So we decided to move our "classroom" upstairs, as far away from the conference calls as we could get. Problem solved…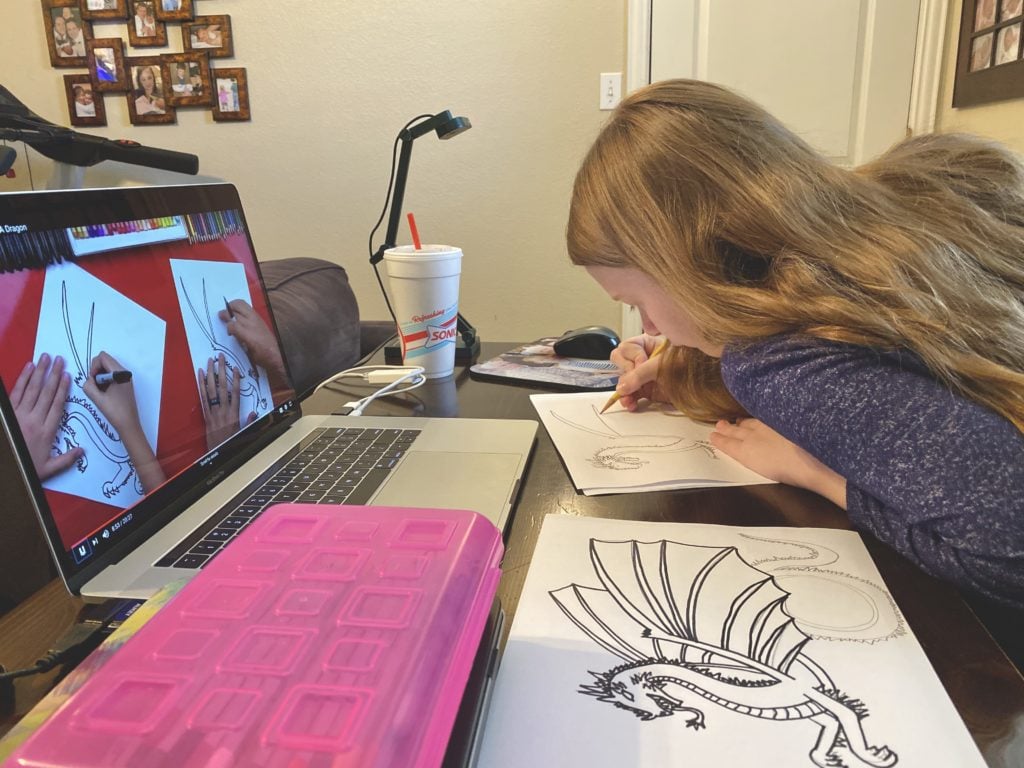 Now there were many days that none of us were feeling this at-home learning thing. Those days were long. Not sure what y'all did on those days, but over here, we tried to shake things up a bit. We'd hold "class" outside, on the couch, and once or twice we worked snuggled up in bed on the laptop!
And sometimes, when we really weren't feeling it, we'd head out on a "field trip." Sometimes the field trip was educational, but mostly it involved our bikes and/or a quick trip to Sonic!
That seemed to be just what we needed to perk ourselves up just enough so we could carry on the following day! Most days were pretty fun, with lots of family activities together outside. We counted these events as our PE for the day!
And the parade of teachers was definitely a highlight for us. That gave us just the boost we needed to make it to the end of our at-home learning.
Thanks to all of our wonderful teachers and staff at our elementary school and our local police department for putting together this special parade for our kiddos. It was just what we all needed!
So we are almost finished with all of our assignments and ready to start summer. Just a few days left. We made the best of this situation and survived this strange new way to learn. Here's hoping we make it back to the classroom this fall. Not sure my skill level will be up to the challenge of 5th grade!
How did you survive this new normal? Hope you all are doing well and staying safe during this crazy season.
Until next time…