I recently spent a week on Kiawah Island in South Carolina. If you haven't been, you should add it to your list of places to visit. After booking a condo, I read many suggestions on what to do and see while visiting, but one thing that was talked about over and over was how important it was to rent bicycles to ride while on the island.
As an avid cyclist, I was all for this. But what I wasn't really on board with was the fact that the only bikes they rented on this island were beach cruiser bikes. You know, the simple bikes with no gears and brakes are on the pedals – the kind where you pedal backwards to stop. Remember those from when you were a kid?
I wasn't excited about these beach cruisers. I was hoping for some good gears and some big, knobby tires to navigate the sandy beaches of Kiawah. We headed to the bike racks to take our bikes out for the first time, and it took me about 60 seconds of riding my new beach cruiser bike (for the week) to discover and understand the greatness of the beach cruiser!
Simple perfection for what we were doing while on Kiawah Island. All we needed was transportation to and from the general store on the island to get a drink, snack and a souvenir or two…. And we needed to be able to ride up and down the beautiful beaches near our condo.
In a world of advanced technology and complex machinery, the simplicity of a beach cruiser bike is refreshingly enchanting. Compared to the high-performance bikes you might be accustomed to, beach cruisers offer a stripped-down, uncomplicated experience. With no gears to shift and brakes located on the pedals, riding a beach cruiser is a breeze, making it a perfect option for a relaxed island adventure.
As you pedaled along Kiawah Island's picturesque paths, we quickly noticed that bikes outnumbered cars. With limited car traffic, the island's pathways become an open playground for cyclists of all ages and abilities. Whether you're a seasoned rider or a novice, the leisurely pace of a beach cruiser allows you to savor every moment of your exploration without feeling rushed.
Renting a beach cruiser bike while on Kiawah Island provided us an unmatched experience of freedom and serenity. The simplicity of these bikes, coupled with the island's bicycle culture and stunning natural surroundings, makes them the perfect companion for exploring the hidden gems of this coastal paradise. Just keep your eyes open, because on Kiawah, the alligators pop up in the most unlikely places – on the trail, in the ponds, and especially on the golfing greens!
So now I'm back home researching beach cruiser bikes! As the proud owner of an amazing road bike (Giant), and an epic mountain bike (Trek), I feel like the only thing missing from my collection is a beach cruiser bike. I read all about them in a wonderful article titled The 11 Best Beach-Cruiser Bikes for traversing state parks or taking a spin down the boardwalk. Check it out! After reading this article, and many others, I think my favorite beach cruiser bike is the SixThreeZero bike. Not sure what it is about this one – probably the amazing color, but something about it calls to me.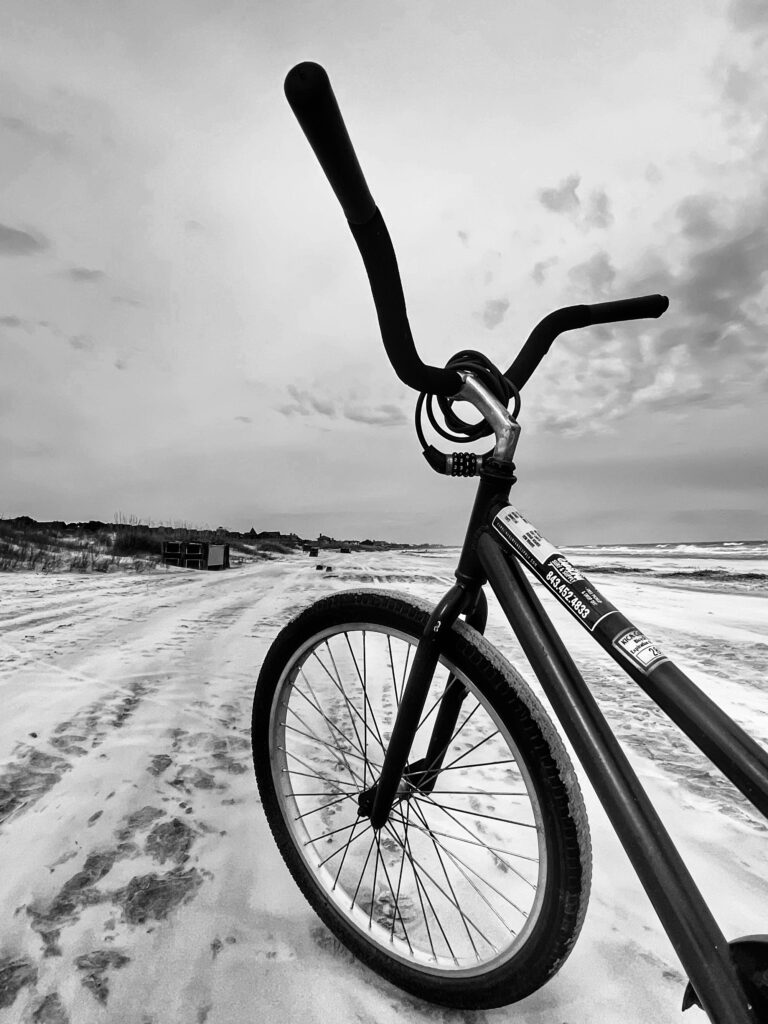 I'm sure my husband will be thrilled when I tell him I'm adding a bike to our garage and I'll need a space to park it. Maybe next to my two kayaks I purchased during COVID?? Maybe if I promise to get rid of one of my other purchases first, he'll be more on board with my new beach cruiser bike! Or maybe we can get matching bikes? Wouldn't that be fun?
I'm not sure if riding my SixThreeZero Around the Block Beach Cruiser Bike will be as amazing riding it here in Allen as it would be if I were riding it in Kiawah, but it's worth a try, right? I haven't started this conversation with my husband just yet, but I'll let y'all know how it turns out.
Maybe my next post will be about my new beach cruiser bike! Wouldn't that be great? If I can help you out with pictures of you and your new bike, you can find me over at Paula Mason Photography! Just let me know what you need! In the meantime, enjoy whatever bike you decide to purchase.
Until next time…