Nerf Dart Tag?  You gotta love the Nerf company, right?  Especially if you have young children who love to play crazy things indoors!  With Nerf products, you can play football, basketball, darts, and more…  And now, in our house, we happily play Nerf Dart Tag all the time!  When I think back to the Nerf toys I had, I am amazed at how different they toys are now – I was thrilled when I got my first Nerf football.  It was the coolest thing I'd ever seen.  Remember way back when?  It hit shelves back in 1972 – when I was….  Well…I was very young.
I was not old enough to have a Nerf football when they first came out, but when I was old enough to ride my bike to the local toy store, that is one of the many things I saved up my allowance for.  If you're like we are, we have so many Nerf toys now.  They are the best because they are safe to use inside and outside.  When I was writing about this Nerf Dart Tag set, I came across a fun article titled 11 Awesome Nerf Facts on the Mental Floss Website.  I love stuff like this.  If you are as old as I am, this article will bring back some fun memories.  Just click on the article title above to read it.
What is Nerf Dart Tag?
If you haven't seen this game yet, you are missing out.  My son, Zach, received this as a birthday gift last year – it was a special double pack with 2 of everything.  It was an instant hit.  It came with 2 guns, 2 vests, and 2 pairs of goggles.  He loves to play with all kinds of Nerf Guns – he has an impressive collection, and he has a Nerf basketball hoop hanging on his bedroom door, but Nerf Dart Tag was new to us – I had never even heard of it before.  In a nutshell, Nerf Dart Tag is a game you play with at least one other player.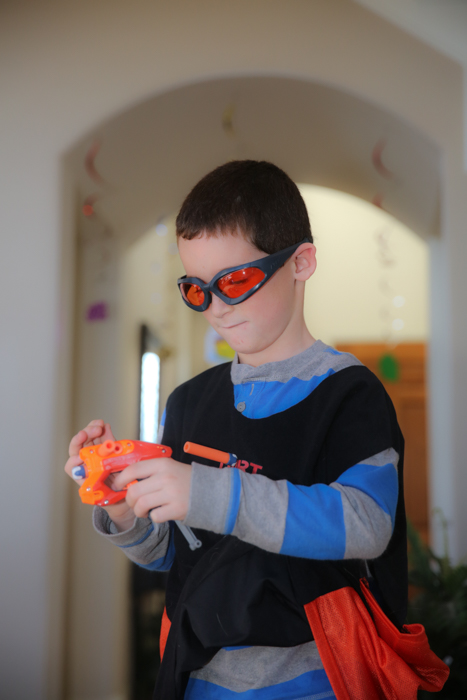 In the game, each player wears a Nerf Dart Tag vest and Nerf safety goggles.  Each player also has a small Nerf gun with bullets that have velcro on the ends.  If your vest is hit with one of these bullets, they stick to the vest.  The bullets, vests, and goggles are color-coded so you can tell the players apart.  In our house, the player who has the most darts attached to their vest at the end of the 5-minutes loses!  Those are our own rules we made up.
What is Hasbro?
Nerf is one of the many brands owned by Hasbro. On the Hasbro website, I read that Hasbro is a global company committed to Creating the World's Best Play Experiences by leveraging its beloved brands, including Littlest Pet Shop , Magic: The Gathering , Monopoly , My Little Pony , Nerf , Play-Doh and Transformers and premier partner brands. From toys and games to television programming, motion pictures, digital gaming and a comprehensive lifestyle licensing program, Hasbro fulfills the fundamental need for play and connection for children and families around the world.
The Company's Hasbro Studios creates entertainment brand-driven storytelling across mediums, including television, film and more. Through the company's commitment to corporate social responsibility, including philanthropy, Hasbro is helping to build a safe and sustainable world and to positively impact the lives of millions of children and families every year.  What a fun company to work for, right?
Challenge a Friend to the Ultimate Game of Tag
A fun, action-filled update on the old fashioned game of tag, Nerf Dart Tag requires great aim, quick feet, and fast thinking. The Nerf Dart Tag Starter Set makes it easy for you to challenge a friend or family member to a one-on-one battle.  Put on your Nerf Dart Tag training jersey, load your bullets, put on your safety goggles, and you're ready for action.
Think Fast, Move Fast, and Blast Fast
Your Sharp Shot blaster lets you take down opponents fast, but remember: your opponent has a Sharp Shot blaster, too. Use your skills to stay out of the line of sight and when you've got your opponent in your sights, aim for their Nerf Dart Tag Jersey.  Go head-to-head until you are out of darts.  Then pull the darts off your jerseys to see who won, and then you can start the game all over again.
Safety Requirements
To keep the fun going, never aim the darts at the face or eyes. I always stress this to my kids before they start to play. But…as long as they are wearing the safety glasses, they should be okay.  To avoid injury, be sure to use the darts designed for this product.  Never modify the darts or blasters and always wear your protective eyewear.
What's in the Box?
Two Sharp Shot blasters
Two sets of Vision Gear eyewear
Two Nerf Dart Tag jerseys (one size fits most)
Eight Nerf Dart Tag darts and instructions.
To make playing Nerf Dart Tag even more exciting, you can buy more vests, goggles and velcro bullets so lots of kids can play at one time.  We now have 4 sets of Nerf Dart Tag, so we can have up to 4 players at a time.  This makes it even crazier – the more the merrier, right?  Right!  Anyway…if you are a fan of Nerf Guns, then this is definitely a game your kids will enjoy.  And I must admit, I've been known to put a vest on once or twice to play with them.  Like I've said before…just a kid at heart.  Have fun playing Nerf Dart Tag and be careful!  Until next time…