You may have read my blog post a while back talking about how hard it was for me to find some kayaks during the pandemic. Remember that? It was titled Hooray! The Kayak Shortage is Over! At Least for Now… When I first started looking for a kayak, I watched lots of YouTube video reviews, and my favorite one was called 6 Kayaks Under $500: Are They Worth It? Part 1.
After watching several videos from Headwaters Kayak, I decided to get the Pelican Mustang 100x. I never dreamed that getting a Pelican kayak in this price range (very reasonable) would be so hard. But finally, after lots of waiting, I got my Pelican kayak. And because I wanted to kayak with my husband and kiddos, I ended up getting two.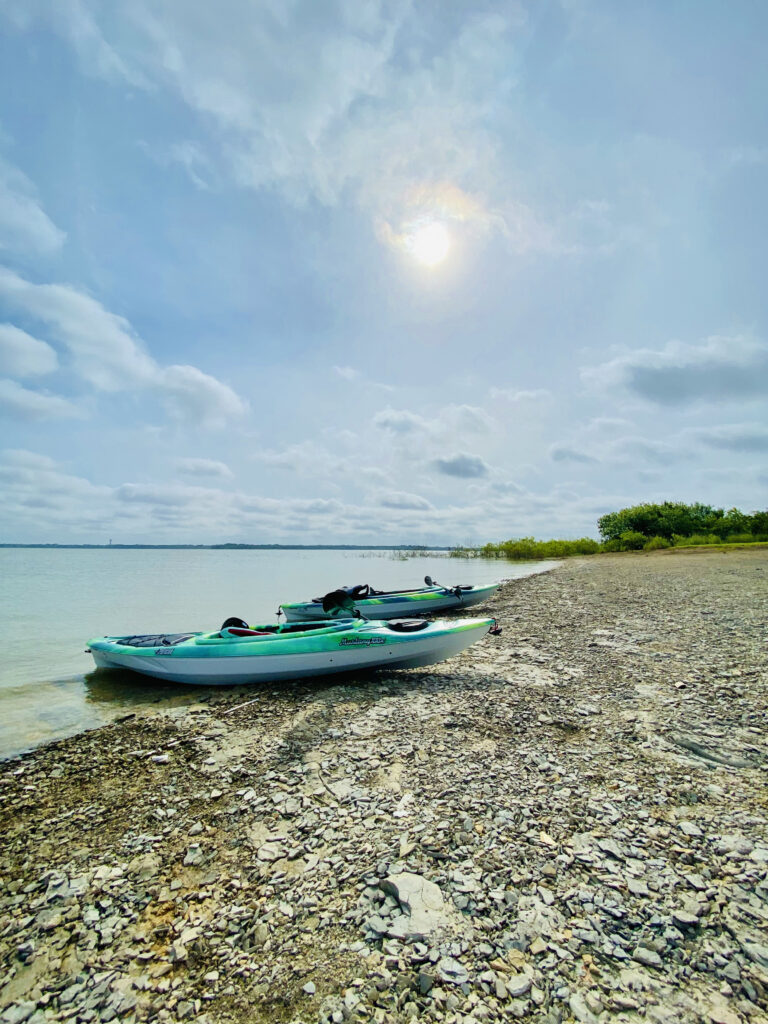 Our first adventure with our kayaks was amazing. It was everything I hoped it would be. As a frequent kayak renter, it was nice to finally have my own. There was definitely a learning curve as far as getting two kayaks onto the top of my car and to the lake, but we did it!
I had researched trailer hitch attachments and roof racks for carrying kayaks and things, but I never found the perfect rack. I was getting frustrated, until I finally found a video of a guy who just tied his kayaks to the top of his car. His words of advice were not to get too caught up in how you transport them. So I followed his advice, bought a kit with ratchet straps, tied the kayaks down to the top of my car, and headed to the lake.
Fortunately, I drive a Jeep, and as we all know, Jeeps were designed for this type of adventure, right? Jeeps are supposed to get muddy. I had to stop worrying about all the mud and water that was going to be dripping into my car for the ride home, and just enjoy the adventure. That is exactly what I did…
I was so happy once we got ourselves into the kayaks and headed out across the lake. These Pelican kayaks were amazing. This was my first adventure using a "sit-in" kayak. All the kayaks I had rented before were "sit on top" kayaks.
Now that I've used a "sit in" kayak, I will never go back. This Pelican kayak has an awesome seat with a nice, comfy seat back, so while you are paddling, you can actually lean back and relax a bit. Who knew paddling a kayak could actually be comfortable?
My daughter and I headed out with the intention of crossing the lake to the other side. There was a nice beach area over there, and we wanted to see if we could make it all the way across. She was a little worried that the wind would blow her too far away from me, so I used a stretchy tether strap to connect her kayak to mine.
We made it across, sat down on the nice, rocky beach area, and relaxed. It was amazing! We skipped a few rocks, explored the area a bit, and then hopped back in our kayaks to return to our starting point.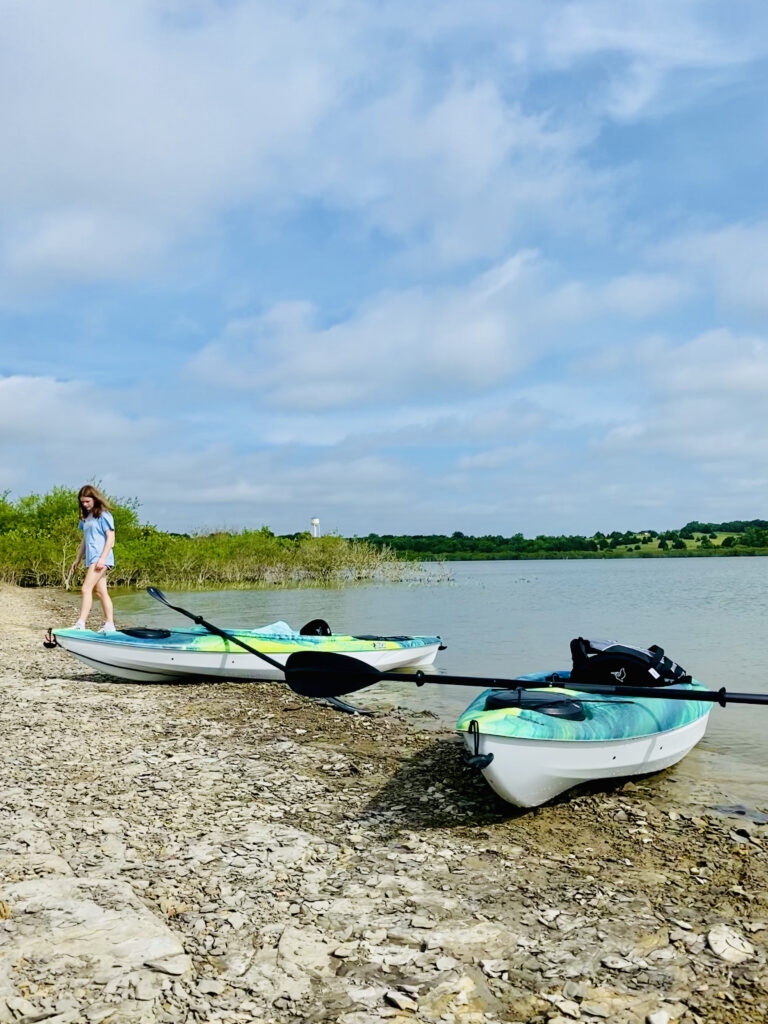 Things I Love About My Pelican Kayak:
It's relatively small – 10 feet in length, which makes it easy to transport.
It has a comfortable seat that is adjustable. Good for me because of my old back!
Foot pedals – there are several of these blocks at varying distances from the seat. Perfect to get good, solid footing while paddling.
There is a cell phone holder right up front. I was able to FaceTime my mom from the kayak without picking up the phone!
This kayak has a little pad to protect your legs and knees from getting scraped when paddling.
Having two storage hatches is great! I can easily access the front hatch, and I put things I don't really need while out on the water in the larger, back hatch.
It has a really nice carrying handle. Makes it easier to drag the kayak from the lake back to the car.
A conveniently located drain plug to let the lake water drain out before putting the kayak back on top of your car!
I considered trying to write another list titled "Things I Don't Love about My Pelican Kayak," but I couldn't come up with a good list. The only thing missing (at the time I'm writing this blog post), is a good cup/drink holder.
I'm a big Sonic fan, and I like to take a large Sonic Diet Coke with me on all my adventures. However, on this adventure, there was not a place to put my cup. Sadly, my cup had to stay in my car, and of course it was all melty by the time we finished kayaking! First world problems, right?
Things to Consider When Looking at Kayaks:
Do you want a sit in or sit on top kayak? I have used both, and I prefer the sit in kayak for several reasons. One being that I feel more stable. If the water gets choppy, I feel like sitting down in the kayak feels more stable.
What type of storage do you need when kayaking? The Pelican kayak that I bought has two storage compartments. In the front compartment, I keep small things that I might need to reach while out paddling. In the larger, back compartment, I keep tow ropes, towels, and other things I might need when I'm at my destination.
Do you plan to go fishing while out on your kayak? If so, you'll need to make sure your kayak has a place to hold fishing rods. My kayaks have two places on each kayak for fishing rods. I'm not sure I'll ever use them, but my husband and son just might. Good to have them just in case…
How will you transport your kayak to your destination? You need to think about this – – it might effect what size kayak you purchase. They come in all sizes and weights, and you can buy a single kayak or a double kayak.
Are you planning to kayak alone? Do you want a double kayak or a single kayak? If you choose to get a double kayak, just make sure it will fit on top of your car, in your trailer, etc…
So there you have it. My thoughts on my Pelican kayak! Don't know how my husband feels, but I am certain this was a great investment. I am already planning our next trip out. What he doesn't know is that this lake is farther away, so we might be investing in some sort of trailer for the kayaks real soon!
Let me know what Pelican kayak you settle on! I'd love to hear your thoughts. Have fun and don't forget to wear your life vest! If you need someone to take pictures of your adventure, you can find me (and my camera) over at Paula Mason Photography!
Until next time…