Bubbles, Bubbles, and More Bubbles
As a child, I was always so very excited when I got a new bottle of bubbles.  Just a plain, simple plastic bottle of bubbles with one bubble blowing wand that was usually stuck way down in the little bottle.  Almost always, it was necessary to dump 1/2 the bubbles out just to get to the wand.  Remember that?  And then, with that one little bottle of bubbles, we would entertain ourselves for a very long time.
We did not have Gazillion Bubbles, Gazillion Bubble Machines, bubble wands, bubble guns, or scented bubbles.  Just bubbles!  Plain and simple!
Nowadays, you can get a Little Kids No Spill Big Bubble Bucket, a Bubble Wand Assortment with a Water Shooter, a Gazillion Incredibubble Multiple Bubble Wand, and much, much more!  It's not as simple as it used to be to buy bubbles for your kids.  It's a very advanced form of entertainment these days…
And I know you'll want your kid to have the best bubbles on the block, right?  Of course you do!  So…like me, you'll probably purchase them gallons and gallons of the Gazillion brand bubbles.  For us, those work the best, and if the bottle does not get kicked over in all the excitement, they last the longest too!
How to Make Your Own Bubble Solution
But don't worry, if you are a DIY kind of person, there are many ways to make not only your own bubble potions, but also your own bubble wands!  According to Happy Hooligans, you can make your own bubble potion with the following ingredients:
6 cups water (distilled is best but tap water is fine)
1/2 cup blue Dawn dish detergent
1/2 cup corn starch (corn flour in the UK)
1 tbsp baking powder (not baking soda)
1 tbsp Glycerine
As you all know from most of my posts, I am not much of a Do-It-Yourself kind of girl, so for all the details about what to do with the above ingredients, you'll want to read the article called Homemade Giant Bubbles Recipe from Happy Hooligans!  The article also tells you how to make a homemade bubble wand!
If you're like me, don't worry – they do sell giant bubble wands as well!!  We use the Gazillion Incredibubble Bubble Wand.  In fact, all the pictures you see with my kids making giant bubbles were made with this set.  It's one of the best we've used!
What are Juggle Bubbles?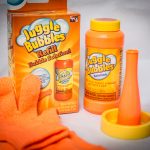 And if bubbles are your thing, you must get yourself (I mean get your kids) a set of Juggle Bubbles.  This was a Christmas gift that my kids got in their stockings.  This is one of those "As Seen On TV" products.  I was so skeptical when we first opened them.  It didn't take long for me to become a believer.  The Juggle Bubbles did exactly what the commercials said they would do!  I was amazed, as were my  kids and my parents!
Juggle Bubbles come with a set of Juggle Bubble no pop bubble solution, a magic bubble glove, a bubble tray, and a bubble blower.  You can order extra gloves, trays, and blowers if you want more!  We originally had just one of each, but quickly realized that we needed more – both my kids (and my Dad) were fascinated with these bubbles!!!
We ended up ordering several sets so everyone could have 2 gloves on so we could juggle and pass the bubbles, because if they touch your hand (without the gloves) they will pop.  So…to keep everyone happy, we stocked up on the gloves!  On the Juggle Bubble Website, the bubbles are described as bubbles you can catch, pass and juggle!  And believe it or not, this As Seen On TV product actually works!
Fun with Water Ballooons
It was the same kind of thing with water balloons when I was little.  We didn't buy a special hose adapter and special balloons that looked like grenades.  We used plain old balloons, and we filled them with our hose out front.  We had to work together to stretch the balloon over the end of the hose and carefully fill it with water.
My mom was never sitting out on the front porch offering to tie them off for us.  We had to figure it out all on our own.  At the end of water balloon fights, our fingers always had little rings around them, where the balloons had been too tight on our fingers while trying to tie them.  But…we figured it out.  There was not another option.  Well, guess what…  Today there are several options.  Just like bubbles, water balloons have also become another advanced form of entertainment for our kids.
What are Zuru Bunch O Balloons?
And as for the water balloons we used – they worked just like the commercials and ads said they would.  I highly recommend Zuru Bunch O Balloons.  You hook the attachment up to your hose, and instantly, the kids had a bucket filled with water balloons – all tied off and ready to go!  They did not even need any help with these.  Once the balloons are filled up, they automatically drop from the attachment into your bucket.
The water balloon fight could begin!  No more sitting on the porch in the rocking chair as the "official Mom who ties all the water balloons"!  I was off duty – and for once, I was free to take some pictures of all the action!  In one of the descriptions I read about this Bunch O Balloons they said they have one Pro Tip to give.  
The Pro Tip said you should allow the balloons to rest while filling- don't hang them in the air!  This is critical for allowing the balloons to be filled to the best and most full size for throwing and popping.  As you can see from my picture, we did not listen to that advice, but we will be sure to try it next time.  Maybe the balloons will get even bigger!
However, we had to make a rule up front.  The balloons are not huge, so the kids were able to grab about 4 at time – – they were going through water balloons so fast.  I could see my Amazon bill going up higher and higher.  Our new rule was that you could only carry one water balloon at a time.  Once they threw their balloon, they could run back to our big water balloon bucket and grab another one!  This made the battles last much longer (and saved me some money)!
What are Zorbz Water Balloons & Accessories?
Now, if you're really serious about your water balloon battles, you need to check out the Zorbz Water Balloon website!  Apparently, this is the only self-sealing water balloon on the market.  Their website says every water battle has a winner. With Insta-Seal™ technology, our water balloons fill faster and seal themselves. Now you can have twice the fun and splash your way to hero status. The days of tying are over. Instead, seal in a victory with ZORBZ.
That's pretty serious, right?  They also talk about some pretty serious water balloon accessories like the Combat Trigger Filler, the Combat Shield, the Combat Power Pump, and the Combat Launcher.  Oh my….water balloon fights just went to an entirely different level.  Click on the link to their website above, and watch one of their videos about their products!
I mean look at that launcher above!  Pretty serious business, right?  I can see my children getting into some trouble with one of those.  For now, I'll let them stick to throwing them at each other.  I can see down the road though – I'm sure at some point we will own a launcher.  Oh boy…that will be fun!  I'm sure that will result in some calls from the neighbors…  Have fun, stay cool, and enjoy your bubbles and your water balloons!  As always…let me know how it turns out for you.  Until next time…