Okay…I talk about a lot of things on Ballcapmom.com, but I always have some favorites. Here is a list of 4 of my favorites (some I've blogged about, and some I haven't…yet)! They are the Loopy Case and/or Pop Sockets, Baggallini purses and bags, Knock Knock Pads, and PaperMate Ink Joy Gel Pens.  As I continue to read up on things, read new books, and as my mood changes, etc… this list of favorites will change…
For now…here are four things I love…in no particular order.  But, you should know that the Loopy Case, the Gel Pens, and my Knock Knock pads all fit nicely inside my Baggallini!  Enjoy…
For my first big iPhone, I used a Loopy Case finger strap. A soft finger strap that attaches to a Loopy Case for your finger to slip through while holding your phone with one hand. I loved this, because it is soft and easy to still tuck the phone in your pocket.
With phones getting bigger and harder to hold, we knew there had to be a better way to protect your device without adding bulk. Then we thought, why drop it in the first place?
We're three brothers from Purdue and Indiana Universities who have been designing the perfect Loopy design for nearly 3 years! With winnings from IU and Purdue competitions we were able to secure our patent and get prototypes rolling!
We've been through countless prototypes and we've stumbled on our favorite case ever. Our previous cases all had a code name: Slim, Pro, Vibe. Well, our current design is so great we decided instead of calling it the Loopy Vibe, it's simply THE Loopy! The all new Loopy has garnered a 98% rating from our long time supporters and early adopters alike! We can't wait to get you in the Loop!
For those of you who use your phone in the middle of the night like I do, and especially if it's one of the larger iPhones, then the Loopy Case is for you. So many nights, I am up checking Facebook, or playing one of my many word games at 2:00 a.m. when I'm so tired but can't sleep, and in the middle of my game, I drop my phone onto my chest or my face.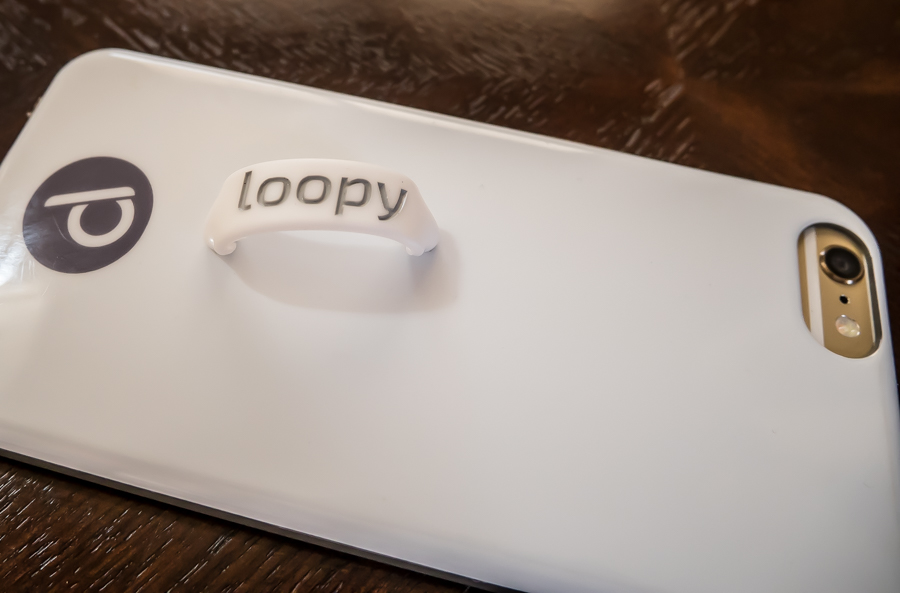 Drives me nuts. Well good news… It doesn't happen anymore – I finally broke down and got a Loopy Case for my giant iPhone! My husband makes fun of me, but I'm telling you – it is awesome!
You just slip one finger through the loop while you are working on your phone, and it will NOT fall! Even if you start to doze off (like I do) in the middle of a game of Solitaire – it is hooked on to your finger so it doesn't slip out of your hand and smack you in the face.
If you prefer a cool, stylish Pop Socket, you can use one of those instead. Seems like every time we go to the store, my daughter wants a new Pop Socket, because can you have too many to choose from? They come in all sorts of colors and shapes, so take your pick!
The pop socket also acts as a stand if you want to prop your phone up to watch something. Very cool, and very trendy!
The Baggallini – The Ultimate Travel Bag
Now this item has a very cool story! And after reading it, I realize why this bag is so perfect for me – as both a purse and a carry-on bag for trips! Founded by two flight attendants?? How could you go wrong with this bag? Right? Read below to learn about how these amazing bags came to be. You can find more about these bags on the Baggallini Website!
Life is a journey.
Just ask the two flight attendants who founded baggallini. They wanted a travel companion, something stylish with plenty of pockets to help them move from place to place. So on their next trip they found some people who could help them make exactly that. Soon the cabin crew all wanted to know where they got their baggs, with the passengers not far behind. Before they knew it, they were sitting around their kitchen table, not just making baggs but making a business.
Twenty years later, the baggs they created are still working hard for the everyday traveler. Baggs that are beautifully organized, to help their owners move from place to place. So whether your day takes you five blocks or five time zones… Our baggs are there to help you glide effortlessly through it. Welcome aboard!
And thank you for making us part of your journey.
Okay…as a person who travels with 2 kids, I'm always searching for the perfect travel purse/bag.  Because not only am I carrying all of my stuff, but it seems like I'm always carrying my children's "treasures" as well – it can be anything – – crayons, iPads and iPhones, coloring books, 1/2 eaten food, or Littlest Pet Shop characters!
I liked these Baggallini bags so much, that most days, I am using one of them for my every day purse. I have several to choose from in my closet, but my favorite is the All Around Hobo bag. It can hold more than you'd think, and it's perfect when I need to toss my camera in my bag too! The Hobo bag is the one I'm currently carrying, but I'm sure that will only be until they come out with the next version…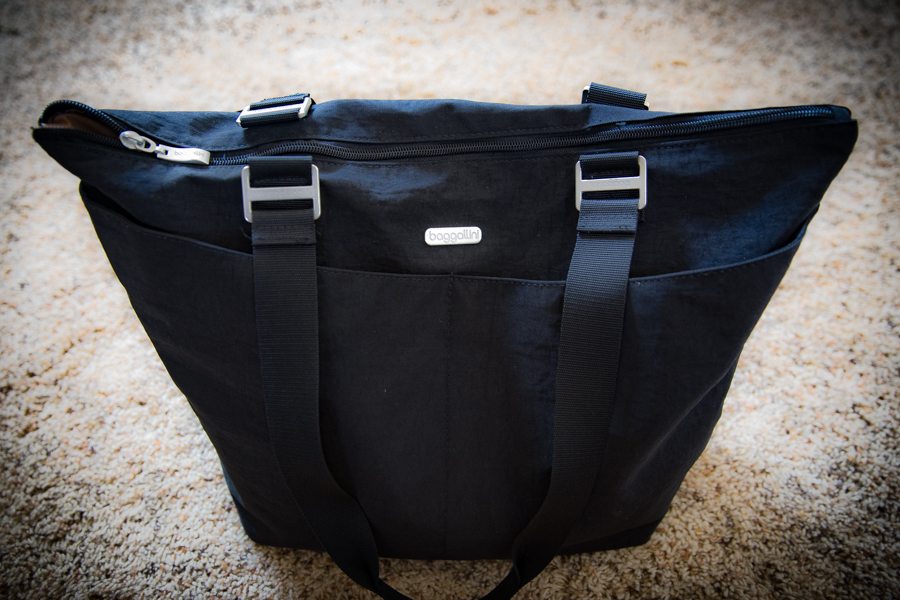 So a normal person's purse doesn't cut it.  I need a super bag that holds everyone's treasures, but yet it still fits easily under the airplane seat in front of me.  Right?  I wish I could still carry a diaper bag, because we all know those things hold anything and everything, but since my kids are so big now, I can't really get away with that anymore.
With all the different shapes and sizes that Baggallini bags come in, I'm sure you can find one that fits your lifestyle too! And each year, they seem to change and tweak the bags just a bit so they can hold even more! No more diaper bags for me!
Stay Organized with Knock Knock Pads
Our notepads have been organizing lives, tickling funny bones, and spawning imitators for over a decade. Whether you're bored or busy, cynical or starry-eyed, secretive or overshare-y, we've got a pad to help you express yourself and get things done.
By far, the very best notepads I've ever used! And believe me, as a serious list-maker, I've used/tried many different types of organizational notepads. And no matter what I try, I always come back to my Knock Knock Pads. My favorite Knock Knock pad is in the link above – it is the This Week notepad. I fill one out at the beginning of each week, and I rarely get everything crossed off. Of course, that has nothing to do with the notepad, but more about me!
A while back, I blogged about them in an article titled For All My List-Making Friends. If you are a list-maker, and you haven't tried Knock Knock Pads, you should definitely read the article. There are so many different types of pads for all different kinds of occasions!
Some of the Knock Knock pads that I want are not totally appropriate since I have kids, but they are so funny! I really want the WTF notepad – you know…Wednesday, Thursday, Friday? But I'm not sure I could get away with that at home. But they do have lists for packing, for long term projects, and much more. Worth checking out if you are, in fact, a list maker.
Pens – Yes…Paper Mate Ink Joy Gel Pens for Nerds Like Me
Spread joy (not smears) with quick-drying Paper Mate InkJoy Gel Pens. With vivid gel ink that dries 3X faster* for reduced smearing, it's like a party on the page where smudges aren't invited. With 14 brilliant colors to choose from, your notes will be bright and filled with fun. Perk alert: these colorful pens are fully wrapped with a comfort grip (because words should never hurt you) and feature a smooth style that keeps the joy flowing as fast as your thoughts.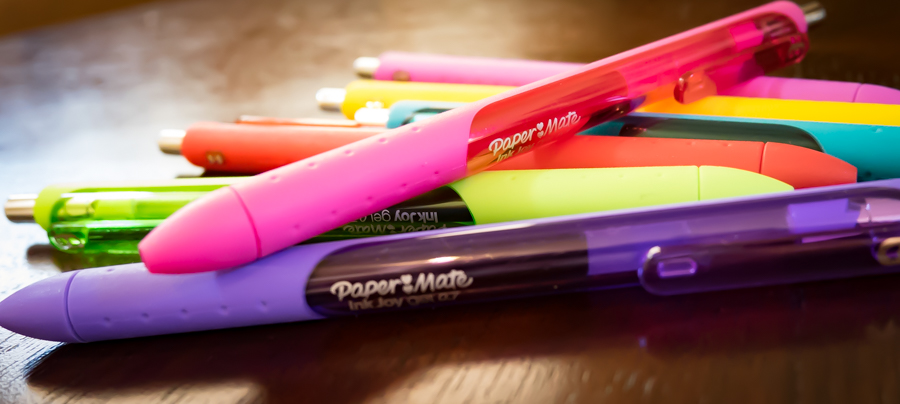 Just like I'm always on the hunt for the perfect baseball cap, I am also always on the hunt for the perfect pens to use on my calendar. Yes…I still use a paper and pencil planner (in addition to the calendar on my iPhone)! I know…I'm a nerd. It seems that if I don't actually write stuff down, I don't remember to do it. So…each week, I sit down and write out my activities in a paper and pen planner. And now, I think I've found the perfect pens to use for this!
And if you don't believe me, just click on this link to the Paper Mate Ink Joy Website! Yes…they have their own webpage. Pretty cool, right? Anyway…what they say about these pens is true. They do NOT smear! I have always loved gel pens, but not for my calendar – a lot of them do smear, and I like my calendar to be just right (with lots of colors).
If you are particular about your lists and calendars like I am, this is your pen!  And with 14 colors, I do believe that I have the prettiest planner in town! This pen is only 2nd to my PaperMate Flair Felt Tip pens. My absolute favorite pen. I have so many of these, but for my calendar, I prefer the Gel Pens. But either will do. All depends on your preference. Let me know what you prefer…
So there you have it. Four things that I love right now! The Loopy Case for my iPhone, my Baggallini travel bag (purse), my Knock Knock pads, and my Paper Mate Ink Joy Gel Pens! Let me know which products you love.
And be sure to let me know which Baggallini bag you end up with. I'm always looking for a new bag – you can never have too many. Right? Until next time…