The Connemara Conservancy in Allen.  What a hidden gem!  I was introduced to this place several years ago by a friend of mine who helped out a bit with their public relations and community information.  She was looking for someone to take some drone video of the area, so I happily volunteered my husband.  I had never been to see this place, but her description of it made me curious.
When my husband and I got there with his drone and our two kids, we were completely shocked by the vast amount of land that was hidden right in the middle of Allen near some houses.  How could this have been here all these years without us noticing it?  Well…for one thing, it is a bit hidden behind a park and a little neighborhood.
The video that my husband did is below.  Remember…the drone video was taken in the winter months, but the photos mixed in were taken in the spring time.  Isn't it beautiful.  I'm so excited for Spring to get here so I can go back again (with my camera) and see what kinds of creatures are there.
I just assumed that there were rows and rows of houses back there each time I drove down Alma.  I mean, I didn't have any clue what was hidden so close to me.  None of my friends lived over there, so there was no need for me to drive in to the neighborhood.  So I continued to drive right on past it many, many times…
But, because my friend needed some drone video, I had discovered it – I knew what was back there, and I was very happy to know about this place .  However, back when I first found out about Connemara, it was not open to the public.  You had to be with someone associated with the neighborhood or on the board.
So I sort of enjoyed it while I was there thinking I wouldn't be back any time soon.  I recently found out that now Connemara is open to the public all the time from dawn until dusk!
Seemed like the perfect place for me to go roam around with my camera and try to capture some photos of some birds and other wildlife.  So I packed my camera bag and off I went.  When I first entered the meadow, I was approached by a very nice gentleman by the name of Bob.
He introduced himself to me, and told me he was the Meadow Manager.  Wow…I didn't know they had a Meadow Manager. He was very polite, told me all about the grasses they were planting, and he gently told me to be careful and to not get lost!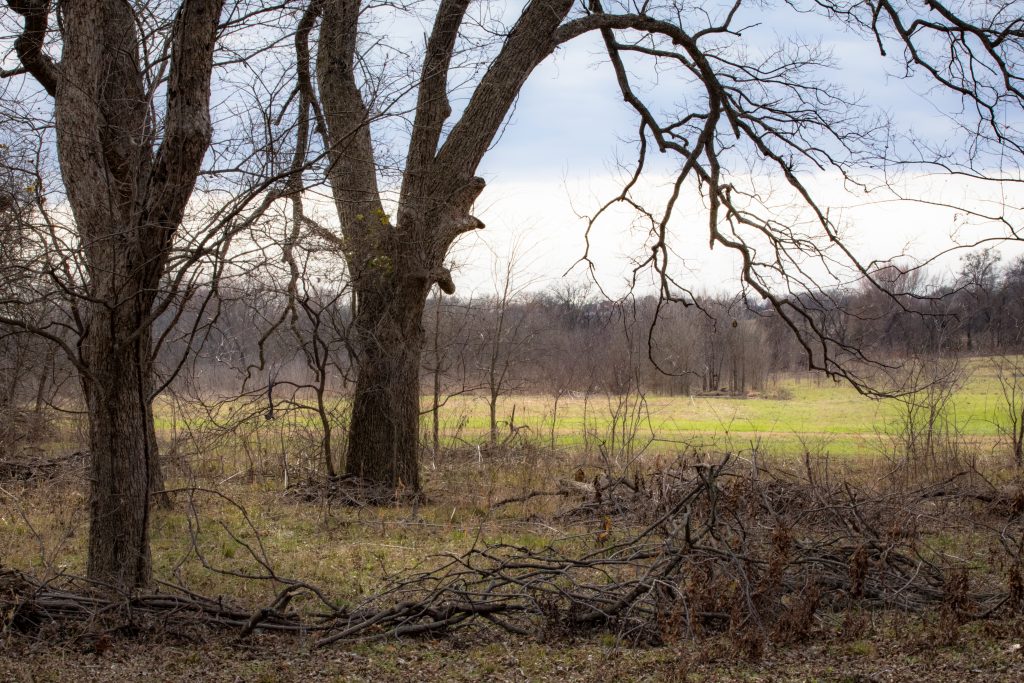 After all, Connemara is an expansive 72 acres of wonderful wildlife, trees, and all kinds of beauty!  And without a map, I felt like there was certainly an opportunity for me to get lost.  Because I was by myself, I chose to stay sort of close to the main entrance.  As long as I could see the main gate, I felt like everything would be okay.
What is the Connemara Conservancy?
According to the Connemara Conservancy website, they have been at the forefront of land conservation and environmental education in Texas.  From family farms to conservation-minded residential developments, Connemara works with farmers, ranchers and other landowners as well as city officials and forward-thinking developers to protect over 6,000 acres of land throughout North Texas.
In 1981, Frances Williams and her daughter, Amy Monier,  founded the Connemara Conservancy, and it became on of the first land trusts in Texas.  Frances was worried that the farmland that her family owned was going to get bought up and turned in to one of the many shopping centers you see around town today.  So she donated the 72-acre Meadow Preserve to the Connemara Conservancy to guarantee people for years to come would be able to experience the natural beauty surrounding us.
If you're not sure where this area is, it is on the border of Plano and Allen, and when you visit it, you will feel like you are not anywhere near the city.  When actually, you could walk from Connemara to Market Street to pick up some groceries or some lunch!  Amazing, right?
We are very lucky to have these 72-acres right here in our city.  Since Frances donated this land to the Connemara Conservancy, they have grown to be one of Texas's recognized leader in both environmental education and land conservation.  And based on my experience there, we also have many local people working very hard to keep our Meadow Preserve in top condition for all of us to enjoy.
I also read about Connemara's vision and mission on their webpage.  I thought they were both wonderful statements, and it makes me so happy that this land will most certainly be here for years to come with such a wonderful vision and mission statement.
Connemara's Vision
The vision of the Connemara Conservancy Foundation is to become a nationally recognized leader in the protection and conservation of open space and critical habitats in order to improve the quality of life for current and future generations.
Connemara's Mission
Connemara's mission is to help farmers, ranchers and other landowners as well as developers and local governments protect and conserve important tracts of remaining open space. In addition, Connemara is committed to educating current and future generations on the important role that open space plays in improving our quality of life.
How I Spent My Time at Connemara
Well, I'm sure it's not much of a surprise to any of you that I went to Connemara with my camera hoping to get some great bird shots, or any pictures of cool creatures or animals running around!  I started off just sort of roaming around staying close to the front gate, but as I started to see birds that interested me, and cool trees, off I went.
I explored for over an hour, and walked all over the place.  However, even after an hour, I felt I had barely scratched the surface.  And I had barely scratched the surface.  For fear of getting lost in the meadow, I chose to stay pretty close to the front gate.
I see many more trips to Connemara in my future.  After I showed my kids the pictures I took, the were both excited about going back.  My son remembered the place as the "one with the awesome climbing tree."  Morgan was too young, but is excited about going again to check it out.
And just like my visit to the Heard Natural Science Museum and Wildlife Sanctuary which you can read all about in my article, I went in the off-season.  At least for me – I'm a person who enjoys spring time much more than wet, wintery weather.  So, both of these places are beautiful right now, so I cannot imagine how beautiful they will be when things are green and blooming!  Right?
If you're wondering what you can do with your family (or by yourself), they offer several activities and events throughout the year.  They have Open Houses, Guided Walks (with various subject experts), Fund Raisers, and many educational events and activities all year long.  You can find out more about them on their website on their Events Page.
So I highly encourage you to check this place out if you haven't already.  It is magical, and beautiful, and it's like being transported out of the busy city, right here in the middle of the city!  Be sure you take your camera, because I know you will want to take some pictures – especially if you take your kids or pets with you.
It's a great photo backdrop!  Have fun, let me know what you think, and be careful!  Like Bob, the Meadow Manager said to me…"Try not to get lost.  But don't worry if you do, we'll come find you.  Here's my card in case you need it."  Until next time…
Oh, I almost forgot…  You can also keep up to date with events at Connemara through the Connemara Facebook page!  This is where I get most of my information on Connemara – events happening, great articles regarding conservancy, and more.
Below are just a few more pictures from my latest visit to Connemara that I thought you might enjoy!  All of them were taken with my Canon 5D Mark IV using my Canon 70-200 L series lens!  Enjoy…
[amazon_link asins='B01KURGS9Y' template='ProductGrid' store='ballcapmomcom-20′ marketplace='US' link_id='00d3dc2a-de6b-11e6-a6e1-7363666a7e39′][amazon_link asins='B0033PRWSW' template='ProductGrid' store='ballcapmomcom-20′ marketplace='US' link_id='0ce3a083-de6b-11e6-88c5-7d77eb6dc9c0′]